As a part of June's pride celebrations, the White House has on display an exhibit about Frank Kameny, a major figure in LGBTQ history. Kameny was drafted into the Army and served throughout World War II. After his service, he attended Harvard and graduated with both a master's degree and doctorate in Astronomy. On a return trip from Tucson, where he had completed research for his Ph.D. thesis, Kameny stopped in San Francisco. While there, he was arrested on morality charges after a stranger inappropriately touched him at a bus terminal.
He was promised that his criminal record would be expunged after three years of probation, so he didn't fight the charges. Kameny then moved to DC, but once his employers at the Army Map Service found out about his arrest, they fired him and banned him from working for the government. Rather than accept this injustice, Kameny protested his firing and argued the case to the United States Supreme Court in 1961. Although the court denied his petition, it was notable as the first civil rights claim regarding discrimination based on sexual orientation.
Kameny devoted his life to activism. He campaigned to overturn D.C. sodomy laws beginning in 1963 by personally drafting a bill which passed in 1993.
He assisted in the effort to remove homosexuality from the DSM, attending the 1971 annual meeting of the American Psychiatric Association. When the gay rights movement succeeded in this effort, Kameny said, "We were cured en masse by the psychiatrists."
He was the first openly gay candidate for congress, running in the first DC election of a non-voting Congressional delegate. He co-founded the Mattachine Society in Washington DC, one of the first gay rights organizations in the country, in addition to founding the Gay and Lesbian Alliance of Washington, DC And he was in the front row, along with Retired Air Force Colonel and PFLAG National board member and regional director Dan Tepfer, when President Obama signed the Don't Ask Don't Tell repeal act of 2010. Despite struggling with heart disease, Kameny maintained a full schedule of public appearances until he died on October 11, 2011.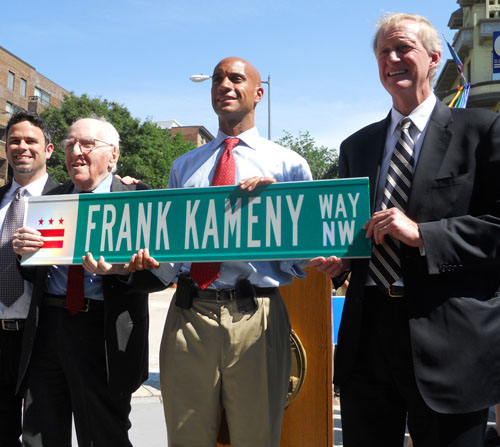 One honor among the many received by Kameny? A street renaming in Washington DC in his honor.
The Kameny exhibit is prominent inside the White House, located in the East Room, the largest room in the White House and used for dances, receptions, press conferences, ceremonies, concerts, and banquets.
The Kameny exhibit includes two of Frank's protest signs. In addition, there are photographs of him protesting outside the White House in 1965 (the first protest by the gay community at the White House) and with President Obama in the Oval Office in 2009. It is a sign of how far the United States has come that two signs condemning the government for being anti-gay are now in the White House on display. It is even more of a statement that these signs are next to a photograph of the man who held them, standing with the President in the Oval Office.
However, it is important to note that full inclusion of LGBTQ people in the military has not been fully realized, as transgender people still cannot serve openly. PFLAG is encouraging the Department of Defense to eliminate transgender status and gender identity disorder diagnosis as automatic disqualifications from military service. PFLAG is also working to ensure that medical fitness standards treat transgender service members equally with all other service members.
Frank Kameny worked tirelessly to end discrimination. PFLAG National is working to continue that legacy. To read more about this tireless leader for equality visit www.kamenypapers.org.